Yesterday's VS Arashi was really funny xDDD I really laughed my head off all the time…
At first, I thougt the plus guest is annoying but somehow, she is pretty funny… But I can't stand her talking T___T
I have been ossessed with making gif recently and this show is soooo funny that I can't help not making some gifs..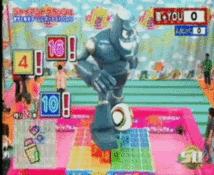 Ohno's face =))))))
Jun-kun, are you patting Leader's butt?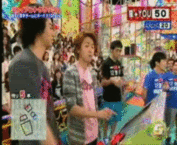 Who's tired of Juntoshi rabu rabut?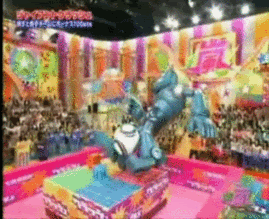 Ohno looks like a baby xDDD Kawaii <33

Itou-san: There were 4 people went for Jungle Bingo.
Jun: Please wait, Itou-san!
You really didn't go, right?
You-san: Somehow, I went for 21...
Jun: That was me.
You-san: Ah, really?
Jun: Yes.
Sho: Sister, if I were right, you just went in then went out.
YOU-san: Yeah..
--------------------
Itou-san: Just now, there were 4 people went for Jungle Bingo.
Sho-Nino: Really? Really?
Nino: Eh, who?
Jun: (pretending) Who?
Nino: Who went?
Staff: Aiba-san
Aiba: Me?
I was told to go!
Nino: WHAT THE HELL!!!!
YOU-san told Aiba to go for Jungle Bingo and the point is Jun saw it and he DIDN'T stop Aiba... Seems like he really wanted to lose. =)))))) You deserve to be chosen as Most Dame Arashi, Jun-kun.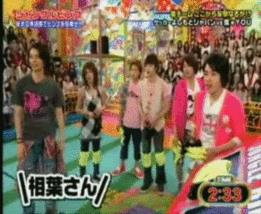 Poor Aiba...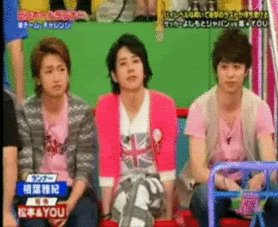 Does anyone know who is Sho waving at?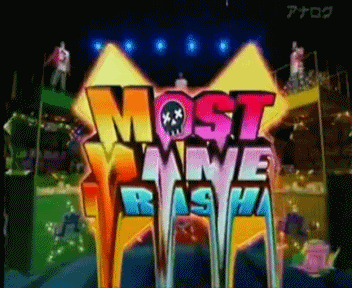 Want a close-up?
I love heart-shaped Sho <3
Sho: OK, camera starts!
Di-di-di---
Most Dame Arashi
Yes, there is!
Arashi: Huh? Who?
Sho: Oi!
But this old man, didn't choose that 14...
------------
Ohno: Wait, wait! Listen! Listen!
I pressed the 8 button
But that guy pressed down. (Poor Jun =))))
-------------
Jun: This is difficult!
Nino: Sorry! Wait, wait! What is difficult ? =))
-------------
Jun: This is stupid!!!!!=))
Why me, why me??
----------------
Jun: Why was me????
OMG, Nino =)))
 Seems like he still didn't know what was going on=))